As veterinarians, we rely on it for assessing injuries, observing the size and position of several organs, monitoring pregnancies, and more. It allows us to peer deep inside our patients' bodies, and because we use digital radiology equipment, the images are available almost instantly. Plus, we can quickly and easily manipulate digital images to obtain a clearer view.

At East & West Animal Hospital, we are thrilled to provide in-house veterinary radiology in San Marcos and are here to provide the quality care your companion needs and deserves.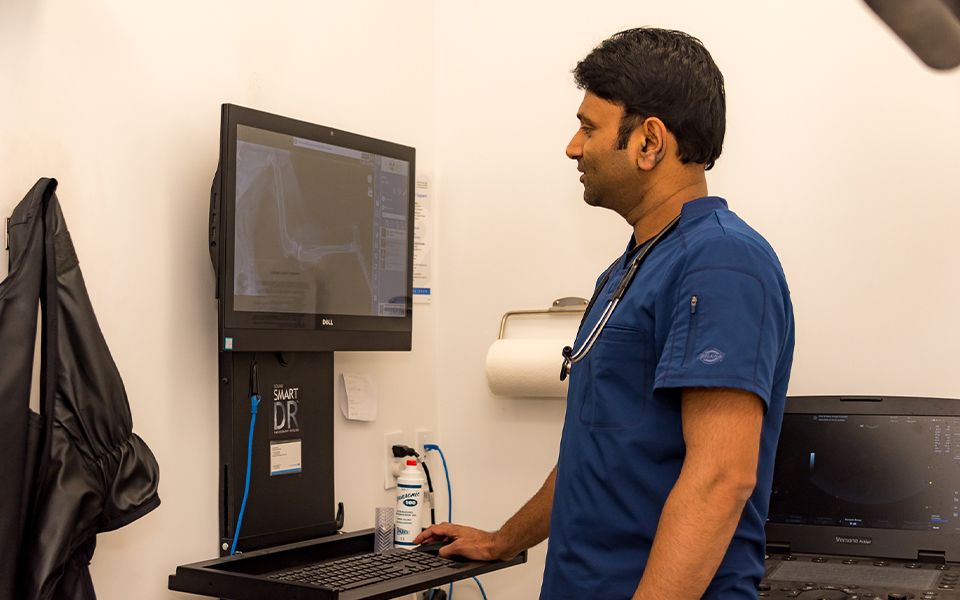 Benefits of
Digital Radiology
We use x-rays to diagnose injuries involving the bones, tendons, and ligaments. They are also useful in diagnosing degenerative diseases like arthritis, confirming pregnancies and counting the number of puppies/kittens, and observing patients' internal organs.

In addition to being faster than traditional x-rays, digital radiology exposes patients to significantly less radiation. It is completely pain-free, and because it's so fast, we are sometimes able to perform the exam without the use of anesthesia. There are no side effects, and the process is completely non-invasive.
If your dog or cat needs an x-ray, we are here for you. We provide digital radiology services in San Marcos and are here to take great care of your four-legged best friend. Give us a call today to learn more or to schedule an appointment with our team.
East & West Animal Hospital performs digital radiology for dogs and cats in San Marcos, Rancho Santa Fe, Oceanside, Vista, Fallbrook, Escondido, Carlsbad, Encinitas, La Jolla, Temecula, and San Diego County.