Acupuncture is a safe and effective alternative treatment option for pets suffering from a variety of conditions. At East & West Animal Hospital, we offer acupuncture in San Marcos as part of our comprehensive care for dogs and cats. If you think your pet might benefit from this treatment modality, we encourage you to reach out.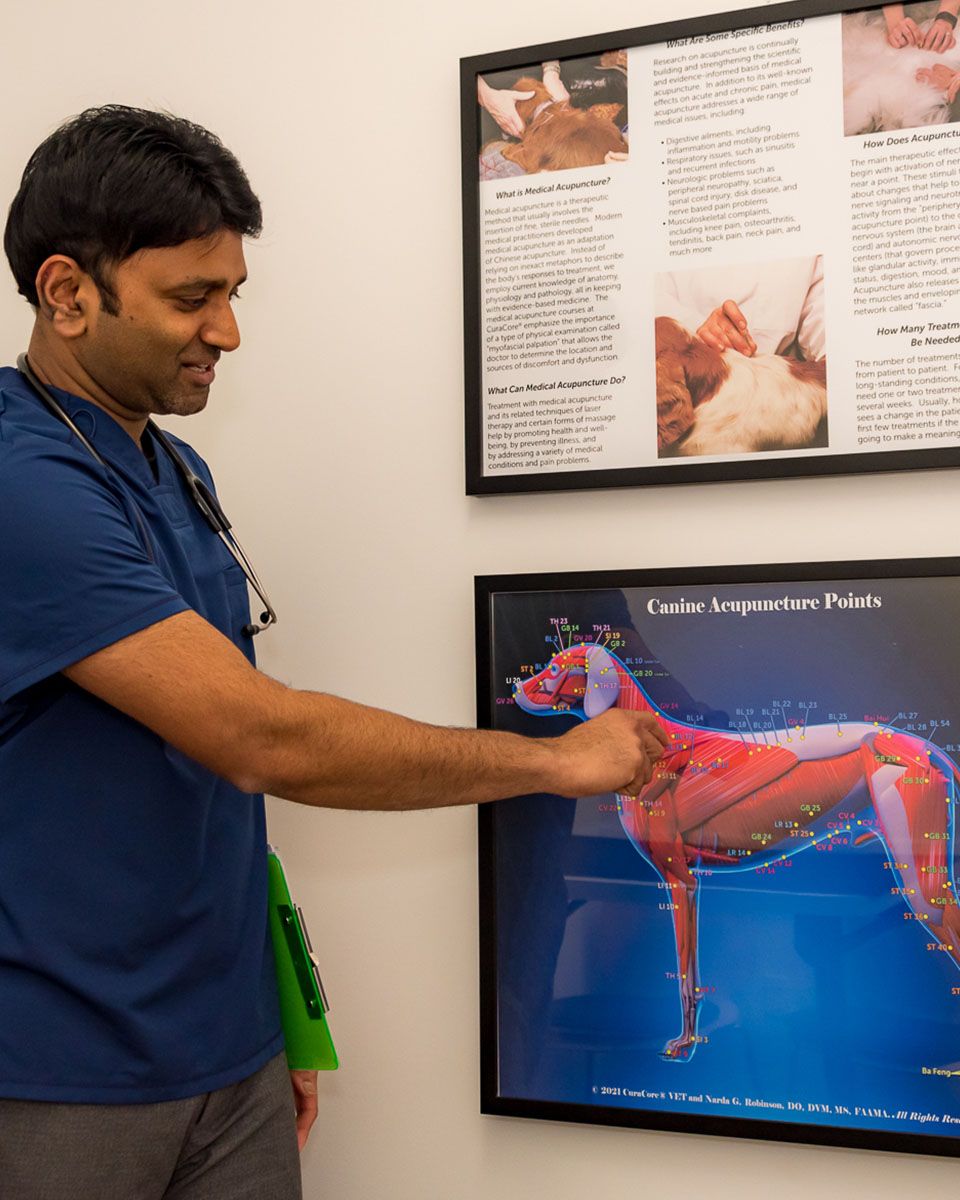 What is
Acupuncture?
Historically speaking, acupuncture is a traditional Chinese medicine (TCM) technique that involves the insertion of fine needles into specific points on the body, known as acupoints. These points are located along pathways, or meridians, that are believed to be connected to the body's energy flow.
What is Medical
Acupuncture?
While acupuncture is rooted in practices developed thousands of years ago, medical acupuncture provides an evidence-based alternative. During treatment, fine, sterile needs are inserted into various points on the body as the would be in traditional Chinese medicine. The difference, however, is that medical acupuncture does not rely on the same underlying beliefs and inexact metaphors. Instead, it is guided by our current knowledge of anatomy, pathology, and physiology.

When you bring your pet in for medical acupuncture, we will conduct a type of physical exam known as "myofascial palpation." This enables us to determine the sources and locations of discomfort and dysfunction. Additionally, we commonly recommend related techniques like massage therapy and/or laser therapy in conjuction with medical acupuncture. Combined, these treatments promote good health by preventing illness and addressing pain and a variety of medical conditions.
Conditions Treated with
Acupuncture
Acupuncture can be used to treat a wide range of conditions in pets, including:
Arthritis and joint pain
Tendonitis
Sciatica
Disk disease
Spinal cord injuries
Neurological disorders
Skin conditions
Gastrointestinal issues
Respiratory conditions, such as sinusitis and infections
Chronic pain
And more
We will work with you to determine if acupuncture is the right treatment option for your pet and create a personalized treatment plan.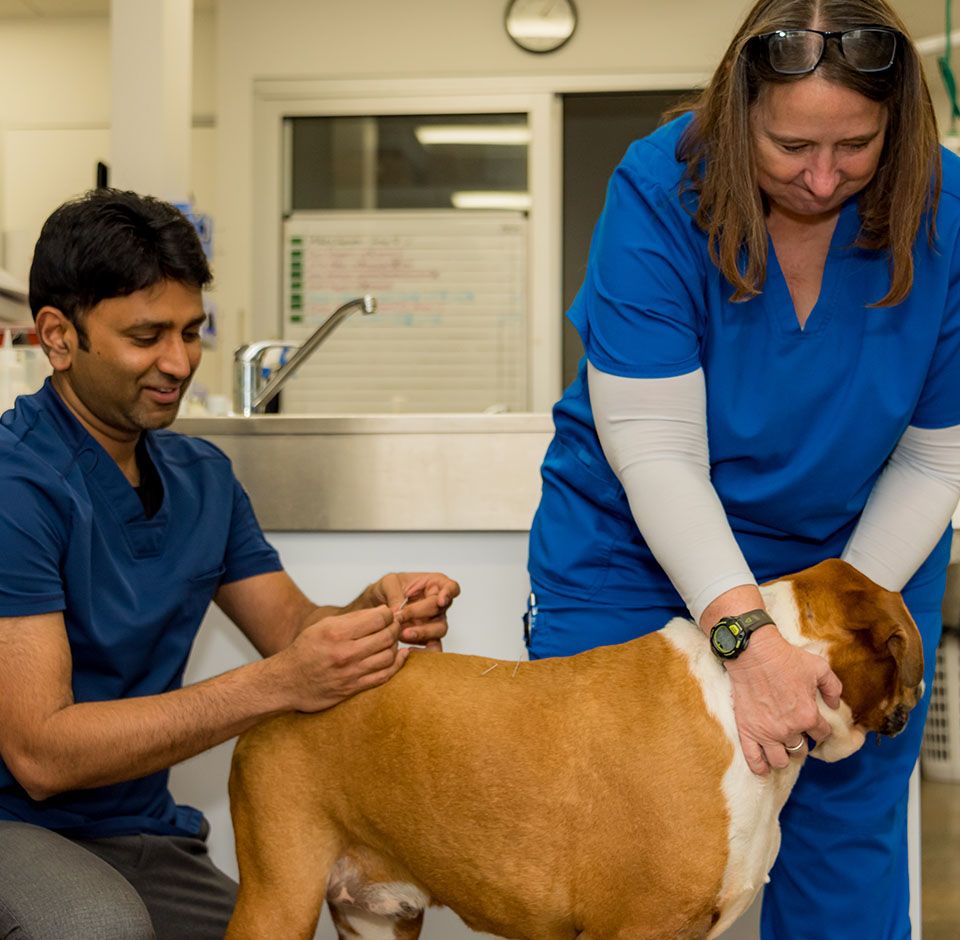 How Does Acupuncture
Work?
During an acupuncture treatment, fine needles are inserted into specific acupoints and left in place for a period of time. The needles may be manipulated to stimulate the acupoints. Some pets may experience a mild sensation or a feeling of warmth during the treatment, but most pets remain relaxed and comfortable.

The main therapeutic effects of needling begin with the activation of nerve fibers near a point. These stimuli then bring about changes that help to balance nerve signaling and neurotransmitter activity from the "periphery" (i.e., the acupuncture point) to the central nervous system (the brain and spinal cord), and autonomic nervous system centers (that govern processes like glandular activity, immune status, digestion, mood, and more). Acupuncture also releases tension from the muscles and envelops fibrous network called "fascia."
Benefits of
Acupuncture
Acupuncture can provide a number of benefits for pets, including:
Reducing pain and inflammation
Improving mobility and flexibility
Stimulating the immune system
Improving digestion
Reducing stress and anxiety
Improving overall quality of life
Acupuncture is safe and well-tolerated by most pets, with few side effects.
Schedule an Appointment for
Pet Acupuncture in
San Marcos
If you're interested in learning more about acupuncture in San Marcos or scheduling an appointment, please contact East & West Animal Hospital. Our team of experienced veterinarians will be happy to discuss the benefits of acupuncture and help you determine if it's the right treatment option for your pet.
East & West Animal Hospital performs acupuncture for dogs and cats in San Marcos, Rancho Santa Fe, Oceanside, Vista, Fallbrook, Escondido, Carlsbad, Encinitas, La Jolla, Temecula, and San Diego County.