First, annual wellness exams are a crucial part of ensuring their long-term health. These exams allow us to assess a patient's overall condition and check for early warning signs of potential problems. They also provide an opportunity for pet parents to bring up any questions or concerns they may have regarding their furry friends.

Dogs and cats must also be examined when they are sick or injured. Animal companions cannot tell their owners when they are feeling unwell. Instead, they tend to mask their symptoms until the problem becomes quite serious. For this reason, it's crucial to schedule an appointment right away anytime something seems "off" with a dog or cat.

At East & West Animal Hospital, we offer pet wellness and sick exams in San Marcos and encourage you to reach out to us right away if your furry friend needs a checkup. By offering western, holistic, and integrated services, we are equipped to offer the exact care your companion needs.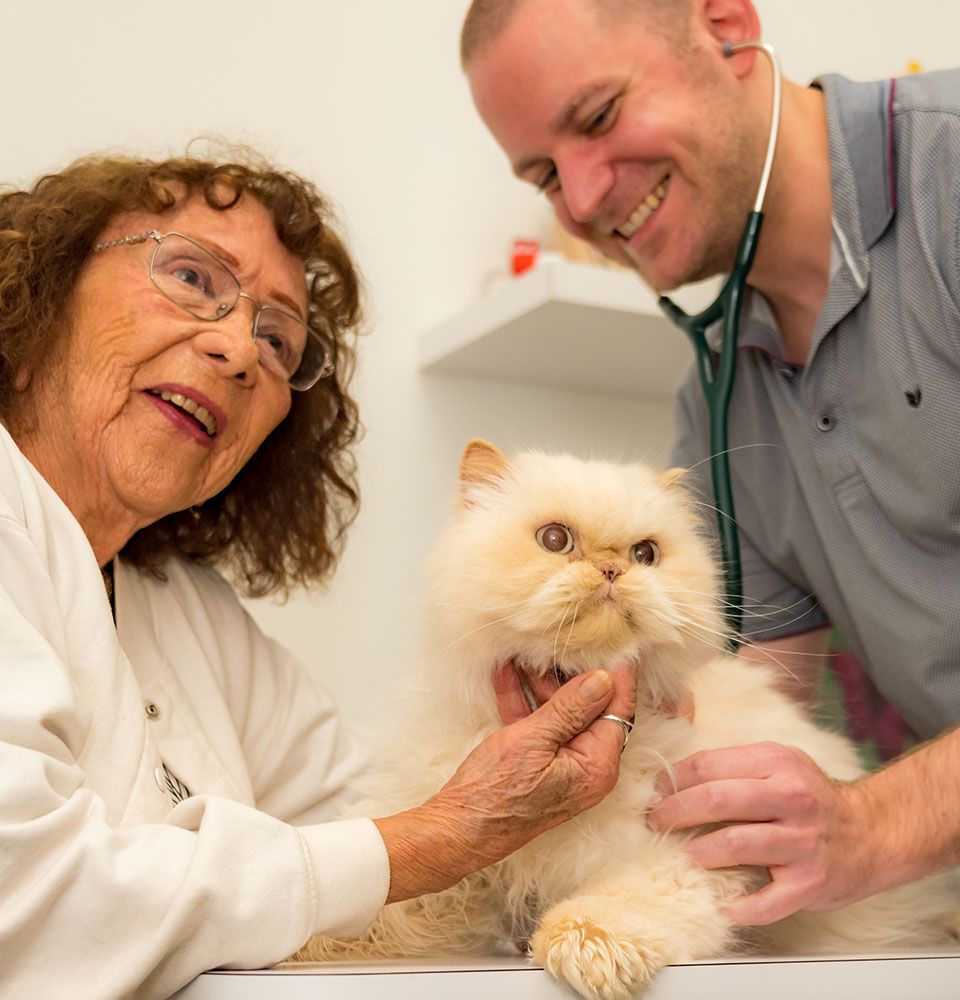 General Western
Physical Exams
During a general physical exam, which is based on western veterinary medicine, we will collect your pet's medical history, check their vital signs, and carefully examine them from head to toe. Whether your pet is sick or just visiting for a routine wellness exam, we will use our findings to prescribe any necessary treatments to maintain or restore their health.
Holistic and
Integrated Exams
When you bring your pet in for a holistic/integrated examination, we'll do the things mentioned above plus perform a more comprehensive assessment of their overall health and condition. We'll take their physical, mental, and emotional needs into account and may recommend services that are not typical in western veterinary medicine, such as acupuncture. In doing so, we can address all aspects of your dog or cat's well-being and take steps to help them live the best life possible. Integrated exams also allow us to focus on managing chronic illnesses, cancers, etc. on a long-term basis.
Pet Wellness or Sick Exam in
San Marcos
Whether it's been a while since your pet's last routine checkup or they are feeling under the weather, our team is here for you. We perform pet wellness and sick exams in San Marcos and will work with you to provide the comprehensive care your companion needs. Please call now to schedule an appointment.
East & West Animal Hospital performs western, holistic, and integrated pet wellness and sick exams for pets in San Marcos, Rancho Santa Fe, Oceanside, Vista, Fallbrook, Escondido, Carlsbad, Encinitas, La Jolla, Temecula, and throughout San Diego County.